____________________________________________________
"What should I know before looking into the purchase of a gas generator for my home?"
A standby generator looks similar to a capped central air-conditioning compressor, only a lot louder. A smaller 3,250-watt portable model will cost you about $300 to $400, while a 10,000-watt model might go for about $1,200. If you want a whole house generator — a 20,000-watt model will cost you about $5,000 at Home Depot. To check on models and pricing click onto: Home Depot House Generators

Other generators go for as much as $10,000 and higher. Installation, of course, can also be costly. To see how to install your own whole house generator, click onto this video: Installing a whole-house generator for your home
If you do want a generator with enough wattage to power your whole house, experts say a 2,500-square-foot home might require as much as 25 to 30 kilowatts. If you want a generator that can power everything in your house, just not all at the same time, you might just need 20 kilowatts. TECO, our natural gas provider in the Reserve, also can point you in the right direction for a gas generator purchase and installation. For more information click onto: Peoples Gas - Whole House Gas Generators
************
"It's time to clean our concrete tile roof. What are my choices and what is best?"
We receive numerous comments and questions every month from residents regarding their homes. With recent letters from the management company to some residents about roof tile cleaning, we have some suggestions on the three main roof cleaning choices available. The following photos were taken in the Reserve and show contractors cleaning the roof tiles:
ROOF TILE CLEANING OPTION 1 – Walking on the roof could cause potential problems with cracked tiles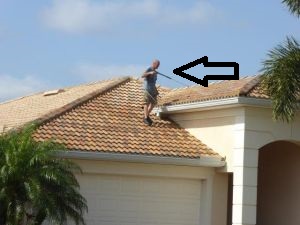 ROOF TILE CLEANING OPTION 2 – Boom or Basket Truck - Good option but avoid anyone walking on the roof, if possible.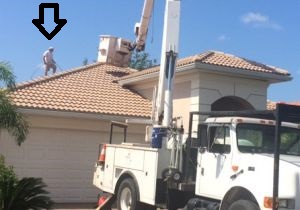 ROOF TILE CLEANING OPTION 3 – Chemically clean the tile without walking on the roof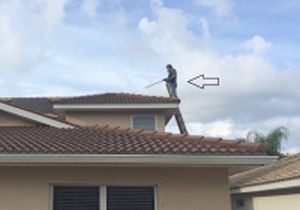 One simple rule to always try and follow is whenever possible "DO NOT WALK ON THE ROOF TILES". When we wanted to have our roof cleaned 2 years ago on our own home, we called to get 3 quotes. One contractor gave a quote of $475 and was going to walk on the roof to pressure wash the tiles but we did not want to risk any damaged tiles.
The second quote was from a well known roofing contractor that advertises daily on Fox radio and emphasizes how other contractors walk on the roof and do tremendous damage to the tiles. His presentation was great until he gave us a quote for $12,000 to clean and seal the tiles PLUS even paint them a different color "absolutely free". Obviously, he did not get the job and we showed him the front door then laughed for a half hour!
The next quote we received was from Surcut Roofing and they guaranteed that NO ONE would walk on the tile. The roof was cleaned chemically with no damage to the lawn and landscaping. Carol and I were amazed at how clean the roof tiles, soffit and fascia were plus… there were no damaged tiles. Our price for a 2-story home was $625 and quotes for some of our clients with one-story homes who used Surcut Roofing were $450-475. If you received a letter from the Reserve at Estero management company to have your roof cleaned, you have an alternative to someone walking on the roof tiles. You may want to get a quote from Tim at Surcut Roofing. Tim's mobile phone is 239-560-4503 and the office phone is 239-225-2233.
*************
"Our gas hot water heater stopped working. Where is the best place to buy a new one"?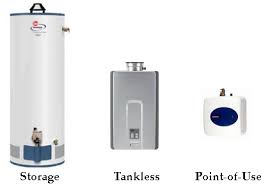 A hot water heater is one of the first major items that will need to be replaced. When our heater suddenly stopped working a couple months ago, we called around looking to get quotes. We found that the prices vary as much as $1500-2000 for a new unit and installation. Even with our contacts in the building business, the prices were still all over the board.
After numerous calls and quotes, we found that People's Gas, our natural gas provider in the Reserve, had the best prices. You can view their gas water heaters and prices at:
People's Gas Hot Water Heaters and Prices
You have the option of purchasing a 40-gallon gas hot water heater for $9.99 a month, interest free for 60 months. Or a high efficiency "tankless" hot water heater for $24.99 a month, interest free for 60 months. The price includes the installation and removal of the old water heater. There may be additional cost based on the condition of the venting, base and pan. There are discounts that apply if you pay cash for the heater and do not pay over 60 months.
One of our clients who we recently sold a home to in the Reserve at Estero, closed in March and the water heater gave out in May. They decided on purchasing the tankless hot water heater for the following reasons: DURABILITY (last for 20 years), EFFICIENCY (40% more energy efficient), SAVINGS (heats water on demand and heats faster – burner turns on only when water flows), and SPACE SAVER (with storage space at a premium, unit mounts on the wall).
*************
"Our AC is about 10 years old. My pet and I can't bear to be without the AC. When will I have to replace the entire system?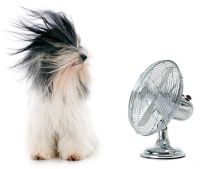 That isn't an easy question to answer. AC units and HVAC systems in general vary widely in terms of their lifespan, based on a variety of factors, including the manufacturer, what kind of unit it is, how big the unit is, and how well the unit has been maintained.

Many professionals say that an AC system in Florida, should last between 9-14 years based on the hot, humid weather, and salt, sulfur, and other natural chemicals in the air. Some AC professionals agree that regular maintenance is the key difference between an AC unit that lasts and one that gives up after 10 years. Air conditioner maintenance tasks might include: changing the filter once a month, getting seasonal tune-ups every year, removing any debris that builds up around the unit, and checking/replacing the insulation as necessary.

Properly maintaining your AC system can extend the lifespan of your unit by several years even in Southwest Florida's harsh conditions. Constant exposure to natural elements such as storms or very hot days can cause internal parts to deteriorate faster than the manufacture intended. It is suggested that Florida residents have their AC units tuned up at least once a year; this can prevent costly unexpected repair cost in the future.

**************

"What's the best way to repair the cracks in the exterior wall stucco and how often should the stucco be painted?"

There are only two kinds of stucco…..stucco that has cracked and stucco that is going to crack! As much as you try to protect the stucco finish with paint, stucco will crack due to settlement, shrinkage, and expansion. The material is strong and durable, but the finish is brittle. Aside from enhancing your home's appearance, a fresh coat of paint can help protect the home from the sun's elements and the inevitable deterioration that occurs from prolonged exposure to these elements.

"How often should I paint the exterior of my house?" With proper preparation and when using top quality paint, a home will typically require painting every 7-8 years. The paint will not stick property unless the surface is cleaned thoroughly. Power-washing to clean the surface and remove chipped and peeling paint is essential. Areas close to the ground should be scrubbed with a coarse nylon brush and cleaner. For mildew areas, use a mixture of 1/3 cup of laundry detergent to one gallon of hot water with a quart of bleach added to the mix.

Finally, before applying the actual paint, check the entire area for cracking and sealed with a high quality acrylic latex caulk. Wipe off any excess caulking that may be lodged in the textured finish. The following video will show you how easy and inexpensive it is to repair and seal stucco cracks. Click on: Repairing and Sealing Cracks in Stucco